Well this past Christmas saw a 'first' for us – trekking around our acreage to find the perfect tree of a suitable size…. So Peter could go out with his killer saw and bring it home to be festively dressed with lights, baubles, tinsel, and other gewgaws (les babioles, prul, baratija – for our French, German, Swiss, and Spanish (Mexican) friends and colleagues) in the spirit of a traditional Canadian Christmas.
Sadly, the snow that fell the previous week, had melted away any hope of a white Christmas when the 'banana express' blew thru' NS – although we've since been enjoying the beautiful sunshine and mild temperatures. However, the warm wind is supposed to change direction overnight, arriving from the north tomorrow, bringing more white 'stuff'. But, I have to say that the winter has, so far, been remarkably pleasant and, by all accounts from neighbours and friends, this is quite 'normal' – so we're not complaining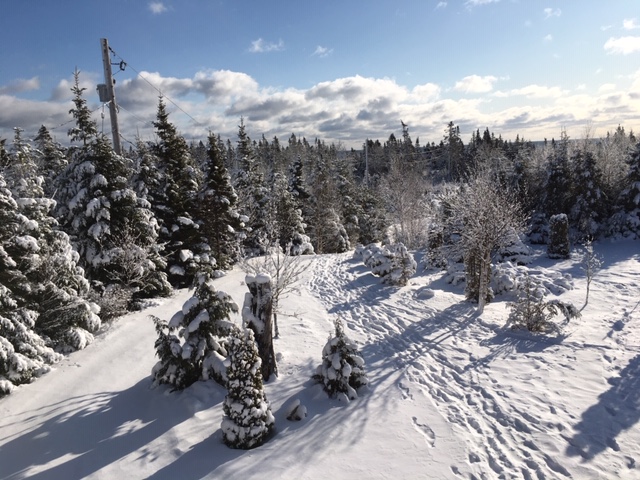 Puzzling…
As we have a warm, sunny space at the top of the house that's been devoted to craft room (although I haven't yet unpacked all my sewing and quilting paraphernalia), I've been hauling out my jigsaw puzzles and spending any downtime 'puzzling' – sometimes, literally – over 1,000 pieces of interlocking cardboard! It sounds more than a little crazy when you think of it in those terms. Which, of course, led me to Google their origins, and learning that, commercially, they date back to 1760, and were formerly pictures painted on wood that was then carved into small mosaic 'tiles'. I confess that I also have favourites – the Dowdle folk art puzzles, typically featuring urban landscapes: Toronto, Vancouver, the Rocky Mountains…. And, as you can see, a nationalistic theme from places we've actually visited. With a nod to NS as well as our first home in Canada, Peter bought me jigsaws featuring Lunenburg and Calgary for Christmas, with the City of Lights (Paris) following for my birthday, as well as Galveston Island and San Francisco. So far, I've only collected puzzles from places we've actually visited, so I still have quite a long list, and could perhaps also add others of towns or cities I have a yearning to see.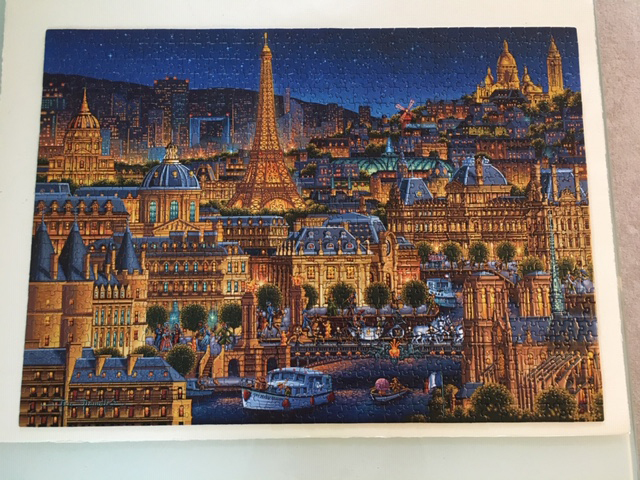 Hopefully, one day, I'll find a group of like-minded friends with whom I can do periodic puzzle swaps – something I used to do when we lived on Gabriola (and somehow managed to leave one behind of Peggy's Cove – which is ironic given that we now live only 60 kilometres from this very picturesque Nova Scotia fishing village).
Like Sudoku, I find jigsaw puzzles relaxing – a way of disconnecting my brain and recharging my batteries, albeit temporarily, from other persistent demands on my time.
Postscript: As 'Puzzling' was typed several weeks ago, I can now report that Paris-City of Lights arrived, and after hours of work was finally completed. (See photo above.) My favourite puzzle to date, even though I originally thought it may become my first failure, in terms of giving up, when the 1,000 pieces came out of the box and I couldn't find a 'handle' – i.e. a good section around which the puzzle would come together. Indeed, the majority of pieces looked quite similar, and also fuzzy, thanks to the yellow cast thrown by the lamplight of the image. 
 Piano lessons
In case anyone missed any previous blogs about my piano lessons – I only started this time last year, then lost many months of practice during our move, and the piano arriving from Mexico – then discovering it's playing days were over – and acquiring a digital version of a concert grand! However, thanks to Michael Reason, my original piano teacher in Mexico, who does my weekly lessons by Skype, I'm now once again progressing more than I could ever have hoped. From playing Frere Jacques and wondering whether my fingers would ever connect to my brain, I've now been playing the blues for several weeks, and just noticed that within the coming month I'll have reached a page with the music for The Entertainer – that wonderful piano piece from the movie, The Sting. As my digital piano has a 'record' mode, and if I can find how to transfer it to my computer (perhaps with the aid of a stick), I'll perhaps attach it to a future blog.
Ellie's story
As you know, Ellie was the long-awaited new addition to our canine family who arrived with us from Mexico, via New York, at the beginning of October 2019. From the outset, she settled so well and was obviously overjoyed with her new home. However, at the end of November we noticed her limping on her left front leg, favouring her right side going up and down the stairs. We rested her for a few days but then decided it was time for a vet appointment. Our first vet had a (quick) feel, and said it was likely just a growing pain (!!), but suggested an x-ray to which we agreed – so 'x-ray to investigate lump'! As it happens, Peter had to call in and pick up a sack of her puppy food a few days later, and the receptionist reminded him that Ellie was due for 'surgery to remove a lump' the following day! YIKES! Does that constitute veterinary malpractice? Needless to say, he cancelled 'both' procedures and a neighbour gave us a recommendation for another vet clinic. So, off we trotted for an appointment with a new vet. Now, having previously had horses for many years, including one with lameness issues, we're fairly familiar with the types of examination that should take place be it equine or canine, and although the new vet did take one x-ray of Ellie's left shoulder, she declined to take her outside to watch her movement walking and trotting because it has just started to snow!!! Diagnosis: No sign of any joint abnormality on the x-ray, but she did at least prescribe an anti-inflammatory and with the recommendation to return in one month if it doesn't improve. Ha! One month at that age in a dog's life is likely equivalent to three or four human years, but we were thankful that the x-ray was clear. In hindsight, I think our reasoning at that time was perhaps a little clouded by over-the-moon gratitude that it wasn't something more serious! How wrong could we be?
One month later, the limp was 95% recovered, but we were still being careful. Then, one week after finishing the anti-inflammatory, the limp had returned, and appeared worse. So, I went to the trusty Yellow Pages – yep, they still exist as an actual hard-copy phone book in Nova Scotia, likely because it's an incredibly slim volume (!), looking for vet clinics with an orthopedic specialist and…. Eureka! Third time was a charm, and I'm happy to say, having avoided libelous claims by not naming the other two vets, that South Shore Vet Clinic in Bridgewater has been fantastic. Seen by Dr. Alyssa Brosha, our appointment lasted around 40 minutes, with both manual and visual exams, including outdoors in a freezing temperature (!), with a follow-up for a stack of x-rays a couple of days later that distinctly showed some elbow joint issues and possibly a bone spur on Ellie's left side. For a more comprehensive x-ray analysis, Alyssa then forwarded the plates to a radiologist who confirmed her suspicions, although there were a few 'suspecteds', 'maybes' and 'likelys' in the report, which was less constructive than we'd hoped. However, with an ace up her sleeve, Alyssa offered to send the x-rays to a well-known orthopedic surgeon in Halifax, who identified the spur as a bone fragment that had actually detached from the surface and could be considered as the root cause of Ellie's lameness. As he works exclusively with referred patients, Alyssa immediately sent a referral request for Ellie which was accepted the same day. Coincidentally, Alyssa has three chocolate labradors, one of whom underwent similar surgery with the same vet that was 100% successful.
Of course, I Googled the guy to see who we'd be dealing with and, as it happens, he's a Brit from Liverpool, who moved to Canada after graduating from the Royal Veterinary College. For the first three years of our married lives, Peter and I lived in St. Helens, on Merseyside, less than 10 miles from Liverpool, so we have a contiguous connection – although I don't suppose that qualifies for a surgical discount! But as this vet is a bone and joint specialist, and well-known for using minimally invasive endoscopic techniques, i.e. keyhole surgery, Ellie now has an appointment for March 3 (unless there's a cancellation and we get an earlier date), for a consultation and same-day surgery…. And we'll be able to bring her home in the evening.
So, now you know as much as we do, and we're optimistic that the post-surgical prognosis is good for her to be able to resume and better enjoy being a puppy, and that her joint will fully stabilize when she stops growing, between 18 months and two years. While we're hugely grateful that the problem can be resolved, there's no way of knowing whether it was originally caused by a small genetic defect in Ellie's elbow joint that precipitated the bone fragment, so unless the orthopedic surgeon is able to tell us otherwise, we won't in good conscience be able to use her as the foundation for our breeding project. Que sera! We had a happy morning today, knowing that things could have been a lot worse (no thanks to the first two vets), because Ellie certainly has the happiest canine soul of any dog we've every owned, so the thought of her suffering any discomfort or even pain has been tough to see and imagine.
As you can see from the photo, although Ellie is not yet fully grown, she's the clone of her half sister, Jenny, and both enjoying a furniture moment!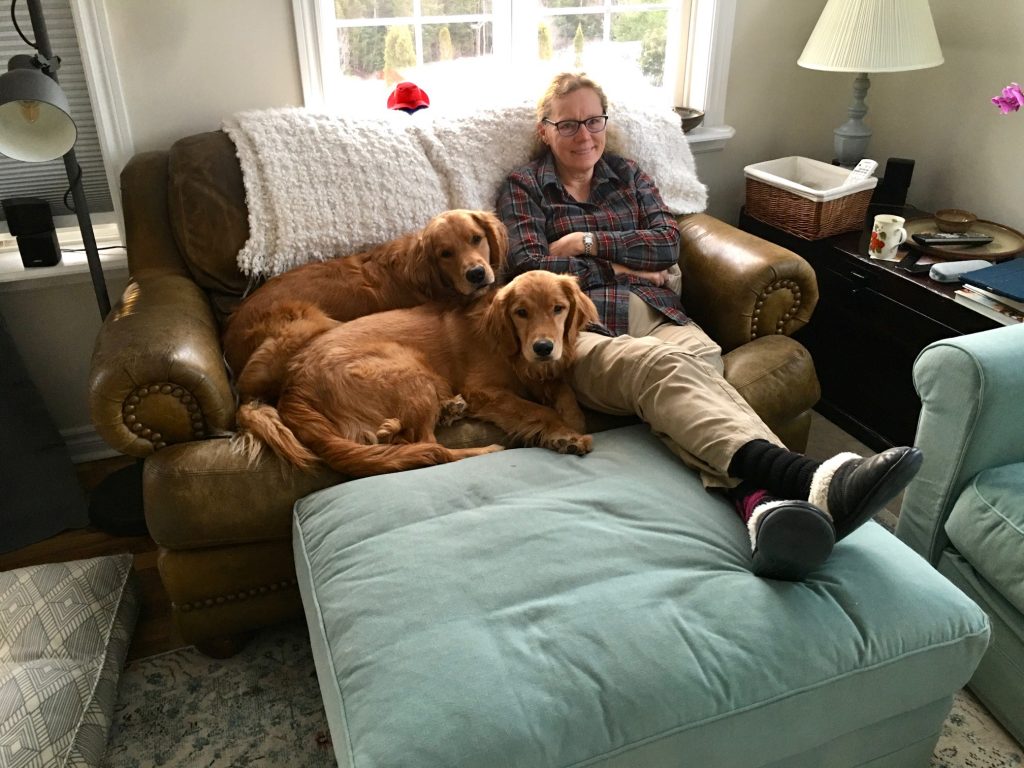 I thought I'd save the calories this time around by not including a scrumptious baking suggestion, and also because I'd like to wind up this blog as I started writing it several weeks ago….
Until next time