Hurricane warning…
Well, we survived the wrath of Dorian unscathed, although the day it hit Nova Scotia as a category two hurricane certainly presented interesting challenges to the regular dog walking. Without having to be too creative, it meant quick forays into the garden with everyone (Peter, Pip and Jenny) being tethered together in true 'All for one, and one for all' style, while I stayed dry watching from indoors. As it happened, there was a quiet spell as the eye was passing over us, when the wind died and the world became eerily quiet, until we got hammered by the backside. However, we thankfully survived and by the following morning there was barely a breeze.
Of course, the wind brought trees down across power lines, and rural locations don't warrant priority when it comes to work crews restoring homes to the provincial grid. However, to put things into perspective for our European friends, nearly 50% of Nova Scotia is considered 'rural'. Canada, overall, ranks 10th in the world for the lowest population density with only four people per square kilometer. (Mongolia heads this list at 1.9.) In comparison, the most populous city in Europe (according to Wiki), which I have to say surprised me, is Levallois-Perret – a north-western suburb of Paris, just outside the Peripherique, with a population density of 26,432/sq.km. Paris alone has a population of over 10 million souls, while the whole of Nova Scotia has yet hit to hit one million – of which over 40% live in Halifax, the capital city. So, yep, along the South Shore of Lunenburg County we're definitely considered 'rural'.
Over the period of seven-and-a-half days that we were without power, we certainly came to understand and appreciate a commodity that we and many others perhaps take for granted in our everyday lives: water. Although our generator kept the fridge/freezer ticking over nicely, and provided light in the evenings (improving our Scrabble and cribbage skills) it couldn't supply the 220v needed to run the water pump from our well. Of course, on day one we had no idea how long we'd be without power, so we stocked up with what we hoped would be a supply sufficient for several days. Not! Little more than 24 hours after the hurricane passed by, we were heading downtown to buy drinking water – big bottles. As it happened, we'd brought home a water pot from Mexico for precisely this purpose – not really knowing whether we'd ever need to use it again – but we quickly discovered that even with the utmost frugality, our regular cups of coffee and tea, washing up, teeth cleaning, refilling the dogs' water bowls, etc., claimed more than one bottle each day – without the gallons we typically flush down the toilet. Thankfully, our local firehall – two kilometres away – was open every day from 8:00 to 8:00 as a community gathering place manned by volunteers who served hot bevvies, and where residents could also use the kitchen (gas) to prepare meals. Feeding ourselves wasn't an issue as we'd had a propane tank installed for my gas hob, but we were grateful to fill containers with water that we could then use to refill our toilet cisterns, and also boil for washing up. The used washing-up water was, of course, then allowed to cool before being used to also flush the toilets.
Simply having to think about how much water were frugally consuming was a humbling experience, as well as realizing how lucky we are that we don't live in the Dorian-ravaged Bahamas where daily water supplies are an ongoing challenge.
(The following link will take you to the ocean video posted on my Facebook page.)
https://www.facebook.com/jean.llewellyn.37/videos/2390100221027290/
Talking about water, the violence of the Atlantic ocean was a sight to behold during the hurricane, as we watched a churning cauldron of storm-tossed waves throw themselves onto the rocks and throwing a cloud of spray that topped the tallest pine trees that bordered the beach. It's also been remarkable to see the way the ocean has redesigned some of our surrounding beaches, none more so than our own Cherry Hill dunes. Normally backed by a protective berm of large rocks that separates a wide area of sand beach from an important wetland area (a breeding ground for the endangered piping plovers – fewer than 40 pairs who call NS home during the summer season), there is now an opening the size of a soccer/football pitch. Thankfully, there doesn't appear to have been any degradation to the wetland, other than a higher-than-normal water level, and locals tell us that they see the topography of local beaches rearranged every year during regular winter storms, although the repositioning of some especially large boulders demonstrates the sheer power of storm surges along our Atlantic coastline.
Thomson Highway: The polymath, not the road!
A couple of weeks ago we were fortunate to have tickets to attend an evening with Thomson Highway during the annual Port Medway Readers Festival at which this Canadian icon read two chapters from his somewhat semi-autographical Kiss of the Fur Queen, shared life stories and anecdotes, as well as participating in an audience Q&A. We'd already missed Readers Festival tickets to Elizabeth Hay and Esi Edugyan (that had sold out within hours of being announced), and although I have to confess that I wasn't at all familiar with Thomson's work, his hugely intriguing biography was sufficiently enticing that I made sure to buy tickets as soon as they became available. And thank goodness I did. I've extracted below some of the biographical blurb published in the Readers Festival program, as well as information from Thomson's own website. https://www.tomsonhighway.com – which is well worth a look-see.
'A Cree author born in a snowbank in Nunavut, Thomson Highway is a Canadian creative polymath. The proud son of a legendary nomadic caribou hunter and champion dog-sled racer and a bead-work and quilting artist, Highway is a novelist, playwright, pianist and composer, and student of languages. Along the way, Highway has carved out an international career.'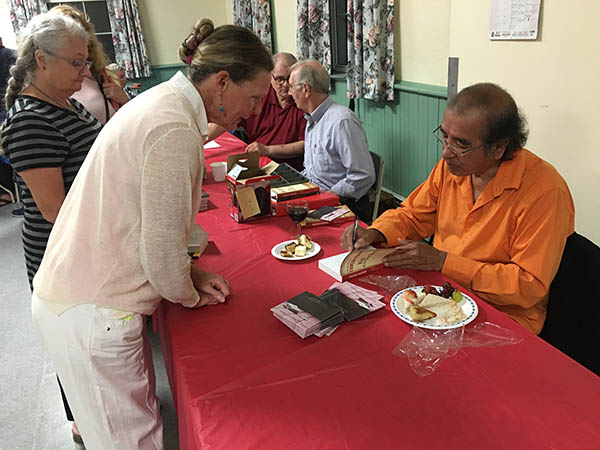 I should here add that his early years were spent speaking Cree, his mother tongue, and Dene, the language of a neighbouring nation of people with whom his family roamed and hunted.
'His book – Kiss of the Fur Queen – has been acknowledged as one of the most powerful books about the north Cree experience (in fact, the human experience) and an extraordinary expression of love, loss, trial, victory, talent and heartbreak, and a cornerstone of Canadian literature that's studied in universities around the world. His plays have been performed in Toronto, Scotland (at the Edinburgh Festival), off-Broadway in New York City, Tokyo…. And have been collected in anthologies that include Thornton Wilder,Tennessee Williams, Bertold Brecht, and Harold Pinter. Highway has also written the first Cree language opera – The Journey of Pimooteewin.'
Before I continue, and for my non Canadian readers, it's worth a brief mention of the controversial history surrounding Indian residential schools in Canada. It was an education system with a network of boarding schools that was conceived in the 1870s and, remarkably, ran until the 1990s, and about which I'm now going to quote from a Department of Indigenous and Northern Affairs statement for the sake of factual accuracy: 'The treatment of children in Indial Residential Schools is a sad chapter in our [country's] history. For more than a century, Indial Residential Schools separated over 150,000 Aboriginal children from their families and communities. In the 1870s, the federal government, partly in order to meet its obligation to education Aboriginal children, began to play a role in the development and administration of these schools. Two primary objectives of the residential schools' system were to remove and isolate children from the influence of their homes, families, traditions and cultures, and to assimilate them into the dominant culture. These objectives were based on the assumption that Aboriginal cultures and spiritual beliefs were inferior and unequal. […]'
For more than a century, over 100 federally supported schools were operated as joint ventures with various churches, forcibly removing children as young as four from their homes, and transporting them far from their communities. Many were inadequately fed, clothed and housed, some died, while others never returned home. In 2008, as part of the Indian Residential Schools Truth and Reconciliation Commission, the Canadian Government's then PM Stephan Harper, offered a full apology on behalf of the Canadian people for what was acknowledged as an abominable system.
However, amidst the horror stories of neglect, emotional, physical and sexual abuse of some 80,000 children, Thomson Highway's own experience – perhaps a rarity – was one that emphasizes the positive intentions and aspects of this system. He explained that he was the youngest of 12 children, and was removed into a residential school with a younger brother, and flourished. In fact, he went so far as to say that he wouldn't be where he is today without his residential school education, as it taught him English and French, and defined his path to success – in the first instance as an internationally renowned concert pianist, while his brother became a professional ballet dancer. Perhaps, no two careers that couldn't be farther removed from their origins as sons of a caribou hunter and dog-sled racer. In fact, Thomson laughingly stated that his first nappy/diaper was a beaver skin that served for many years – a highly sustainable option given today's disposable offerings!
And, as the very reasonable ticket price included a post-reading stroll to the local firehall for wine, appys, dessert, and a book signing, a wonderful time was had by all.
Green revolution…
Nova Scotia certainly has an impressive record where garbage is concerned, not only with their pick-ups (every two weeks, for us), but we also now have four bins, with sacs of a specific colour representative of the contents: Regular garbage in a black sac (one per household per pick-up), paper products (clear sac), general recycling (tins, cartons, etc.) in a blue sac (with clean plastics separated into a clear sack or single-use shopping bag), and compost in a special green bin that's wheeled to the kerb. Certain garbage-collection days are also designated for appliances, furniture items, wood, electronics, mattresses… You name it, there's a day for it – so you never come across places being used as dumping grounds for discarded waste that people can't be bothered to deliver to recycling depots.
So, this 'clean environment' policy got me thinking that we should do more to limit our household waste. Enter Abeego – a company that sells sheets of waxed cotton as a safe alternative to using plastic wrap or aluminum foil for food. The sheets are anti-bacterial, anti-fungal, can be washed in cool water, come in a variety of sizes (but can also be custom cut using pinking shears), are good for over a year, and the warmth and pressure of your hand will mold sheets to containers without lids. Given the cost of non-reusable and environmentally unfriendly materials, the initial expense (less than $20 for three or four sheets from Amazon) is entirely justifiable, and more companies are now offering similar products so they will likely remain affordable.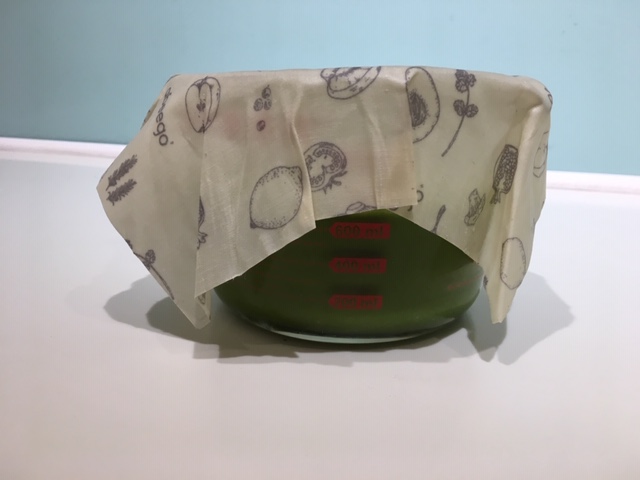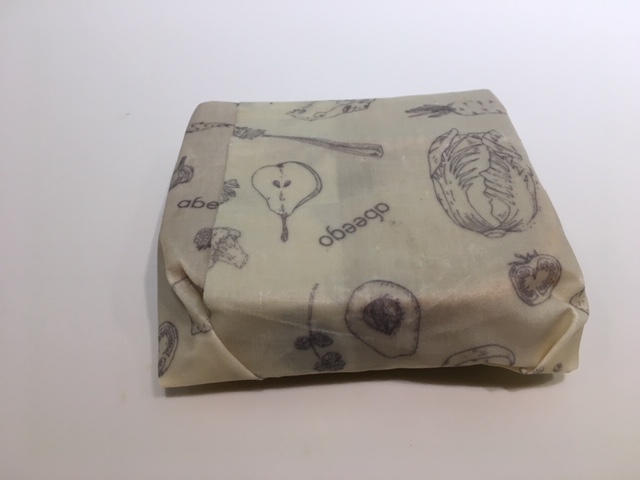 Another recent purchase was a supply of reusable net produce bags for buying loose fruit and veggies in supermarkets. They come with drawstrings and tare weight tags, and a set of nine in different sizes is around $15. I calculated that these save around nine or 10 plastic bags per week for my regular shopping alone because, although many supermarkets no longer provide free plastic sacs at check-outs (Sobeys and Canadian Superstore still do!), there doesn't yet seem to be a plan to abandon produce sacs (other than for loose mushrooms for which paper bags are provided).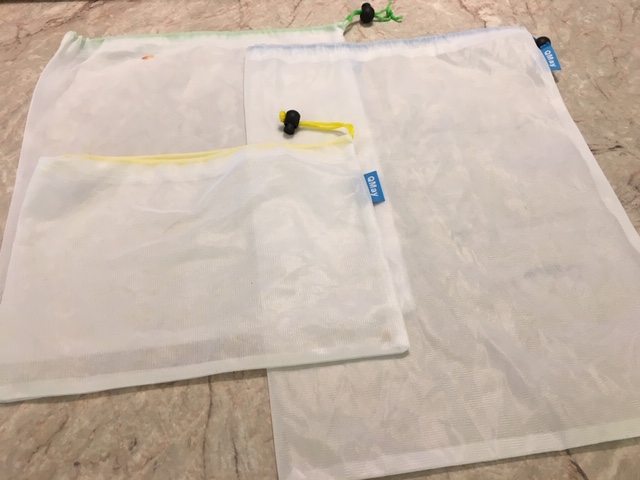 We are extremely privileged to live in a country that hasn't yet been completely buried in plastic waste that's now overflowing into the oceans, so our local beaches are spotlessly clean (other than seaweed). However, Canada and other countries are selling their waste to third-world countries for whom garbage collection has become an economic necessity, but with no effective means to either recycle or properly dispose of the waste they're accumulating. So, by becoming even more environmentally aware, I feel that we're at least doing our personal best to ensure that perhaps many others will also be able to enjoy pristine beaches like ours.
Wildlife savior…
So, Peter had toddled off quite early the other morning to Cherry Hill beach, with his cameras, of course, when he called my cell phone. "Find me the telephone number for Hope For Wildlife, I've got an injured cormorant." Of course you have! For anyone who isn't familiar with this organization, they've had a regular and quite watchable programme called 'Hope For Wildlife' on the Animal Planet channel for some years now, being a non-profit that will take any sick or injured wild animal for veterinary care, rehab, and release, for whom I found the number and Peter called. At the time, there wasn't another soul on the beach, and Peter didn't want someone to arrive with a dog that might chase the bird who was in serious difficulty with a badly broken leg. He was also trying to keep it out of the sea because it couldn't swim either and was simply getting battered by the waves.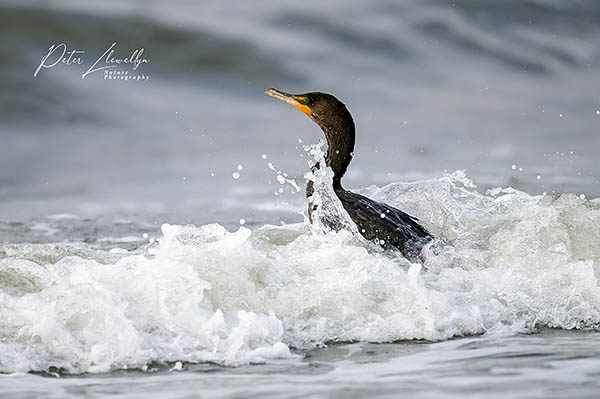 Finally, someone we knew arrived for a walk, so they 'guarded' the bird while Peter drove home for one of our dog boxes and a bed sheet – having spoken to Hope For Wildlife who gave him instructions on how best to catch it. Success! Although not before Peter had to wade into the sea fully clothed when the stupid bird first evaded capture. However, once 'Corky cormorant' – okay, don't even know whether it was male or female – was in the box, he/she seemed to understand that it was safe and quietened down, and a short while later a volunteer from HFW arrived to transport the bird to a veterinary partner in Mahone Bay for an initial exam, and from there to the HFW location north of Halifax. We've since heard that he/she has now arrived at the HFW facility and, of course, Peter's now thinking it would be very cool to volunteer with this organization because the lady who came to transport the bird is the only one on Nova Scotia's South Shore, which is a long stretch of coastline. (Watch this space.)
Changing seasons…
Although we're still enjoying sunny afternoon beach walks with the dogs – occasionally wearing shorts and t-shorts and enjoying the sand and surf between our toes – there has been a distinct change in our overnight weather that has forced us to switch to a warmer duvet from the one we used in Mexico. We've also noticed a very slow fading of greens to russets, reds and yellows in the deciduous trees that will soon provide the spectacular range of fall colour for which Canada is so famous – especially the Maritimes region that includes our home province of Nova Scotia. Of course, having only arrived in April, our first year is going to be a learning experience and a voyage of 'firsts', which I'll share as they unfold.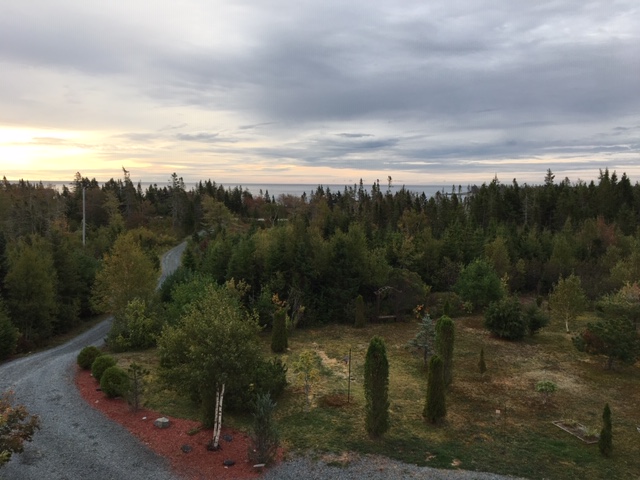 Before I sign off…
The kitchen is finally finished, apart from decisions over the colour of the existing cabinetry (yellow), and the aqua walls. The island is fabulously functional and provides an additional 24 square feet of prep space, with a sink and breakfast bar.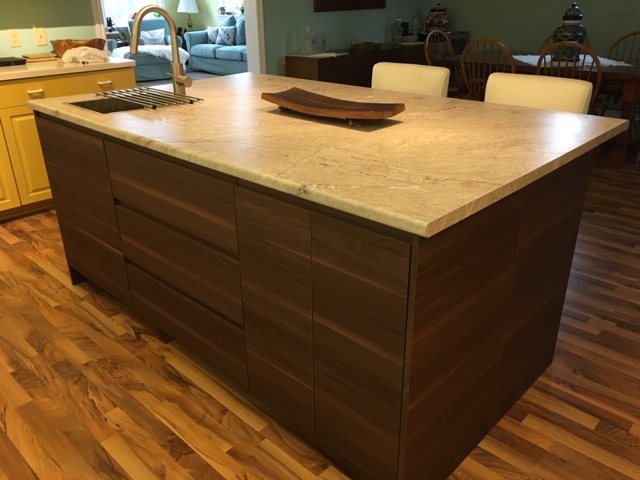 And, as my words have now deviated into the culinary realm, I'm going to include items about our local vineyard, distillery and brewery, in future blogs, as well as introduce you to the South Shore's legendary lobster crawl, plus some personal recipes that have been tried and tested and deemed to be delicious. So, as a 'taster' – the best-ever muffins, that are also sneakily healthy, usefully adding to your intake of fruit and veggies. They are great for breakfast, elevenses, afternoon tea, anytime you fancy a hearty snack, and please don't be put off by the list of ingredients, as these quantities produce 16 four-ounce muffins – which are quite large. Or you can make them smaller, and they freeze brilliantly. I took a batch for our pickleball group to sample, who said they were the best muffins they'd ever tasted.
Morning Glory Muffins (with imperial and metric weights)
14oz / 400 g    All-purpose flour (plain flour for my European friends)
12oz / 350 g    Sugar
1tsp / 2 g        Cinnamon
2¼tsp / 11 g    Baking soda
¼ tsp / 1.5 g    Salt
3½oz / 100g    Coconut (unsweetened, medium shredded)
5½oz / 160g    Raisins
5½oz / 160g    Carrot, grated
7oz / 200g      Apple, grated
5½oz / 160g    Pineapple, tinned, drained and crushed pieces
2¾oz / 80g     Walnuts, toasted and chopped
8 oz / 230 g     Eggs (the cookery book I use from the Culinary Institute of America lists eggs by weight for accuracy – 8oz is generally four large eggs)
7½oz / 210g    Vegetable oil
1tsp / 5mL      Vanilla extract
Optional: Rolled oats to sprinkle over the tops, pre-baking (or sunflower seeds or another favourite muffin topping)
Grease a muffin tin, or use paper or silicon liners. Set oven for 375°F/191°C.
Sift together the flour, sugar, cinnamon, baking soda and salt. Blend the coconut, raisins, carrots, apples, pineapple, and walnuts into sifted ingredients.
Combine eggs, oil, and vanilla, then stir into dry ingredients until well blended.
Scale 4-oz into prepared muffin tin, filling cups three-quarters full. Gently tap to release any air bubbles. Sprinkle tops with rolled oats Bake for around 30 minutes – or until a skewer inserted near the centre of a muffin comes out clean.
Cool in the muffin tin for a few minutes then transfer to a cooling rack.
BON APPETIT, until next time