Finally, after several weeks of chronic indigestion caused by the roller-coaster of 'have we, or haven't we' sold our Nova Scotia property, the stars aligned and we received an email confirming that our buyers' financing had finally been approved. Yikes! It's been an emotional journey for us, so it must have been purgatory for them as they saw this as their dream home from the moment they set foot over our doorstep. To coin a phrase from the inimitable Bard: All's well that ends well!
 Schedule!
 Although the weeks have dragged on towards our original July 30 closing date (which was maintained throughout all the ups and downs of mortgage hell for our buyers), we'd mostly avoided dismantling or packing anything for fear of tempting fate, although we secretly sneaked a few boxes past the moving gremlins and hoped they wouldn't notice. However, as y'all know, we're old hacks at the packing-and-moving game, so we've had our moving company booked for some time now as July and August are their busiest months. And, yes, you can expect another movie of our king-size mattress, this time being lowered FROM rather than hoisted TO the top-floor balcony, because what didn't go up the stairs, definitely won't come down.
A long-distance conundrum!
 Our search for a new home certainly created a data-compiling conundrum to decide on our final neighbourhood, although we'd narrowed down our search to the NW and SE quadrants of the city. for a couple of weeks, we felt like we were dragging ourselves through treacle, simply trying to narrow our choices to the top three properties. Walking scores, bike paths, hiking trails, off-leash dog parks, public transit, supermarkets, Costco, canoe launch, proximity to the mountains for skiing/snow-shoeing…. Oh, my giddy aunt! The list of priorities and activities was mind-blowing, but we also had to overcome the issue of arranging long-distance video walk-throughs of short-listed homes. Thankfully, an old Calgary friend helped out on one occasion, and most renters were otherwise understanding and generous with their time, enabling us to eliminate a couple of places before we settled on quite the dream property – thanks to the home's delightful owners, Roger and Carolina (who, as it happens, have just bought their own exquisite home a couple of blocks away, on the edge of Lake Chaparral).
 Now, how's this for an astonishing twist of fate: Our home in Mexico overlooked Lake Chapala, and our new home is in Chapala Point! More photos to follow after we've moved in.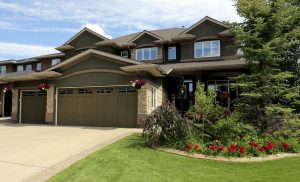 As it happens, our cross-country schedule currently has us arriving in Calgary on August 5, so we have six nights booked at the dog friendly Holiday Inn on McLeod Trail, while we look for a new car. Our Durango, is now rising 17 years old, and definitely feeling tired, having carried us safely from Calgary to BC and back several times, BC to Florida and back, BC to Mexico and north to NS, and now the final leg across Canada from the Atlantic ocean to the Rocky Mountains, so it's time she was put out to pasture. Our renters are wanting to move mid August (still negotiating a date with their moving company) so we decided an 'escape' would be in order, before our furniture arrives and we begin the task of unpacking boxes… Again! So, a good friend arranged a great deal for us at Buffalo Mountain Lodge (also very dog friendly) in Banff National Park for a week – or a few days longer depending upon our final rental occupancy date.
 As we set off this coming Thursday, July 31, I will of course be posting my daily blogs enabling anyone who feels inclined to map our route. One thing's for certain, we're definitely not going to be wandering south of the border so it'll be Canada all the way.