Yep – since leaving Virginia this morning we've passed through West Virginia, Maryland, Pennsylvania, New Jersey, New York, Connecticut, Massachusetts… ending in New Hampshire. It's been a very long day and it was the first time our efforts to find a hotel were thwarted, thanks to Boston's aversion to dog- and budget-friendly motels or hotels – only posh brands and prices, so continued on into NH and struck gold with a very lovely motel, dog rooms available, and the most comfortable accommodation since we left Mexico. Yay!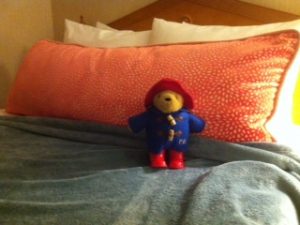 Sunday was the best possible day to be hitting the tri-state area around New York city. Our GPS – that has faithfully directed us since we gave it our preferences – took us north of the city and across the Hudson into Connecticut, where our highway was restricted to cars – no commercial vehicles. A real bonus that certainly reduces the stress levels while driving. And, although the earlier weather had been a misty drizzle, the sky remained overcast but bright for the rest of the day.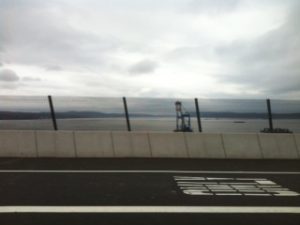 Talking about driving – our very trusty wheels of 15 years, rolled over 200,000 klicks today as we circled around the Big Apple. Sadly we missed it – having planned to take a dashboard photo at the exact moment, but the photo you'll see shows 200,012 – close enough as we were in heavy traffic when the momentous event occurred. What stories our Dodge Durango could tell from her many international trips, as well as hauling us from BC to Florida and back, across Canada to Toronto and back to the West Coast, across the Rockies several times, back and forth to the US on numerous working trips, and now also heading 'home' to Canada where she joined us from the factory in 2004. What a star! She'll be treated to an all-body detailing after we get home.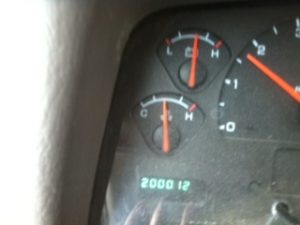 Something I forget to mention yesterday…. We were very aware of all the references to Davy Crocket/Daniel Boone as we motored through Tennessee, so hummed and sung our way through several bars of 'Davy Crocket, king of the wild frontier'. But found it strange that the words of this iconic song state he was born on a mountaintop in Tennessee – except there was definitely no mountain at the point indicated as his birthplace on the map, so either the song was taking a monumental liberty with its words, or some bright spark moved Davy's birthplace to a location close to the highway to better attract visitors. Hmmmm!
We heard just this morning that the area in Texas we drove through a couple of days ago was hit by a tornado yesterday – so we feel for the people affected, but extremely thankful that our trip through tornado alley was uneventful.
So tonight is our last in the US as we'll be crossing the Canadian border tomorrow and likely staying in Saint John for one night before we head to our rental cottage for Tuesday. However, we will be breaking our journey just north of Portland, Maine, for some serious shopping in the LL Bean factory store – replacing some of the winter togs we didn't think we'd need again when we headed south. Hopefully, their winter sale will still be running….
Okay – to wind up for today as it's already gone 9:00 p.m., and I seriously need a shower before I hit the sack. I decided to find the oddest place name during our trip, and leading the way, so far, believe or not, is Soddy-Daisy! And finally, a roadside sign that read: "State Veterans' Home" and underneath "Dinosaur State Park" – a rather unfortunate sharing on the same board. Only sorry we whizzed by so quickly I didn't have time for a photo (and apologies for the poor quality of the others – Peter can't drive and take pics at the same time so, unfortunately, leaves it to me.)