Phew! Phew! Phew! Breathe! Relax! Finally – over 5,000 kms, seven US states, two border crossings, a few hiccups along the way – a GPS system that failed us miserably with only 60 kms to go… But, we've arrived safe and sound.
Didn't rush out of bed today after five mornings of 5:30 a.m. alarm calls – so strolled into the hotel restaurant for a splendid breakfast at 7:00, after packing the car and readying ourselves for the last leg in our journey. Glorious day – much cooler following last night's spectacular thunderstorm, so set off for the final six- to seven-hour drive. Some of the roads were remarkably quiet, as you'll see from the photo, but it didn't cease to amaze that there were tethered horses grazing the central reservation – 15 to 20 feet wide – of a four-lane highway. What better way to desensitize your horse to traffic than have massive semi trailers thundering past doing 110 kph – and they all looked in great condition.  Also saw farmers strolling down the side verges with herds of goats and cows – yikes – and I must credit Peter with surmising that some Darwinian process has prepared them genetically for a nomadic life strolling along Mexican highways. I also have to say that there never appeared to be any concern by the herder that his charges would to wander onto the road, and the grass looked diverse, lush and well-interspersed with edible flowers and herbs (judging by the smells wafting in the windows). It's one of those situations that appear so alien to non Mexicans, yet we're the ones who should perhaps adapt our ideas and sensitivities.
So – as most of you Gabriolans with dogs know, whenever you pass through the ticket booth with a pooch or two, there is an abundant supply of dog cookies there for the asking. Well – it didn't take Pip long to realize that she had to make herself known to the ticket agent so as not to miss the free gift, so she'd push her head over Peter's left shoulder at the open window waiting for her cookie every time we passed through. The period we spent in Toronto didn't dim her memory and when we joined the ferry line-up, after two years, she was practically climbing over Peter's shoulder to beg for her cookie. Have always wondered about the trigger for this behaviour: the smell of the ocean, recognizing the same people who handed out the cookies…  Yet, when we arrived at the first toll booth in Mexico – ta da! – Pip is there hoping for her free cookie… "Gimme, gimme." And at the next toll booth, and the next one – all the way through to Guadalajara. Not once did she abandon her quest to try and prise a non-existent free cookie out of an unsuspecting booth operator.
One remarkable and surprising discovery driving through Mexico was that all the roads and verges were spotlessly clean, no plastic bags clinging to fence wire, no soda cans or bottles, and we passed any number of clean-up crews who were also mowing and weeding – perhaps one benefit of the low minimum wage for manual workers, but also making the roads an absolute pleasure to use.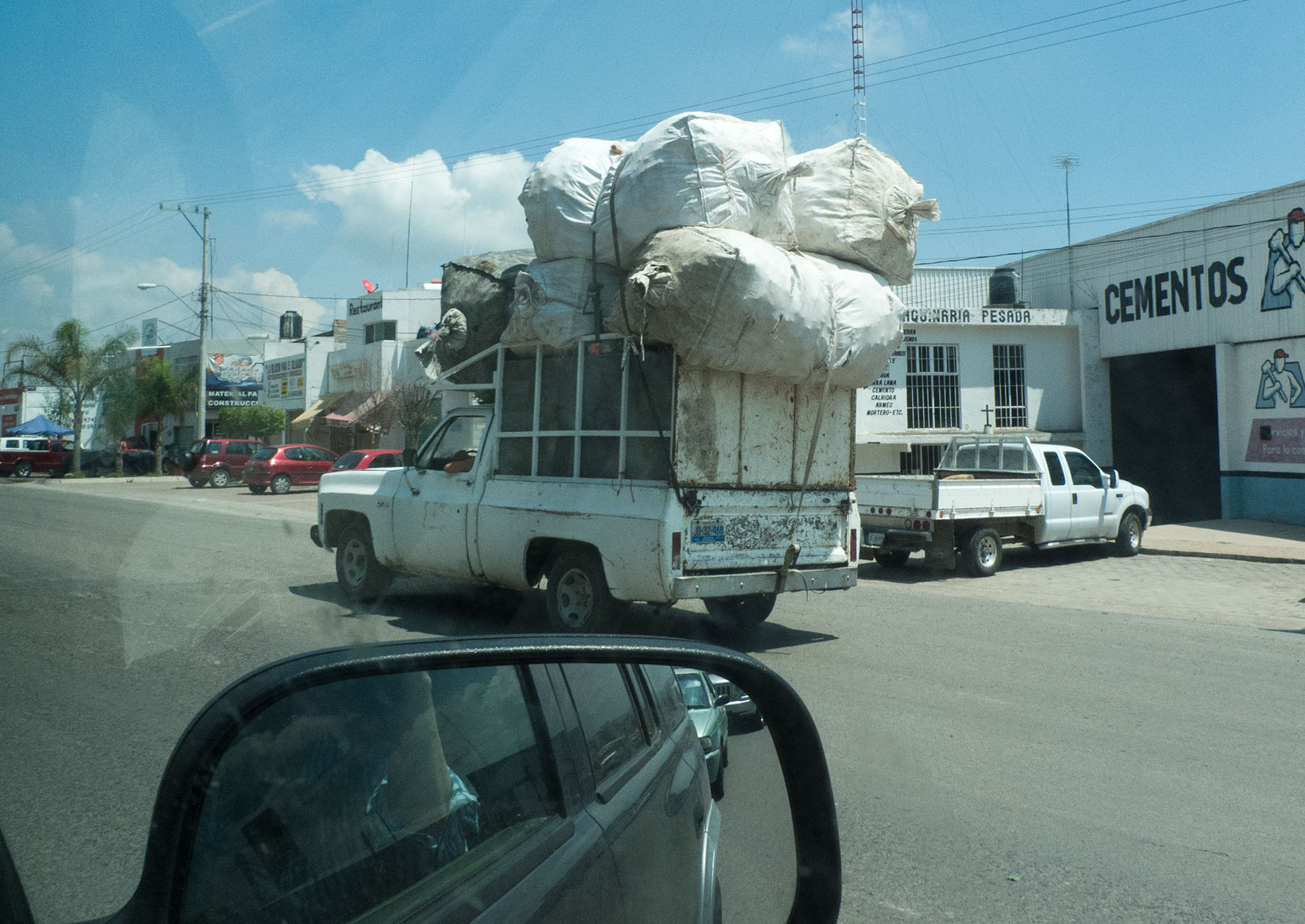 Also, several times during our traverse of the country from Laredo to Guadalajara, we crossed the monarch butterfly migration route to Morelia – their over-wintering ground which is only a couple of hours drive from Chapala. It was so gratifying to see numerous road signs indicating a reduced speed limit of 60 kph in the presence of butterflies – which typically start passing through Monterrey's mountain passes heading south towards the end of October. Morelia is definitely on our itinerary for a visit, or two, at some point – and for anyone else who cares to join us.
So, finally, how did our GPS fail us miserably today? We were around 30 kilometres from Guadalajara, watching the screen that indicated a right turn off the toll road: "In 100 metres use the ramp to exit highway." Peter indicated and started to turn… "STOP" I yelled, having just seen a sign over the road saying Chapala – our destination. It was the start of the new road from Guadalajara to Puerto Vallarta that opened a few months ago that was obviously missing from our GPS system map!!! Grrrrr! Too late. Why is there never a 'retorno' (U-turn gap in the central reservation) when you want one. I then saw a sign to Guadalajara airport, which I know is on the way to Chapala, so we followed that sign instead – until the directions suddenly disappeared, which they often do. The GPS urchin now keeps insisting that we return to the designated route, directing us to U-turn or take one-way streets in the wrong direction! Okay, to give you some idea of Guadalajara traffic, think Toronto's Gardener Expressway on steroids with no repairs for the past 20 years, potholes across every lane, bus drivers trying to squeeze into lanes wide enough for Smart cars… So, the quick run down the new road turned into a nightmare, white knuckle drive that took an extra hour – although we did get to see Tonala, an area of the city famous for its many very colourful street markets! Undoubtedly destined for a visit and photo portfolio at some future date. A final 'que sera' and I'll prepare to sign off.
I can't tell you how much we've appreciated the support and encouragement of everyone who responded so positively to our journey news – it felt like you were all travelling with us and, hopefully, many of you will find your way south to visit us in the future.
With all our gratitude for your friendship… Jean, Peter, Mattie, Pip and Paddington