Six months ago, no one could have imagined the ongoing impact COVID-19 would have on our lives, and especially on some business sectors. This past week has certainly illustrated the seriousness of the pandemic on the hospitality industry, of which we've had first-hand experience. And for those of you like us who rarely experience the lazy existence enjoyed by living in a hotel, waited on hand and foot, think again. We spent six days in Calgary's Holiday Inn – a really nice hotel, very conveniently located close to some great parks and riverside walking trails for the dogs – and had to empty our own trash, no cleaning service as staff are not allowed to enter guest bedrooms until they've been sanitized, collecting our own supplies from reception (tea, coffee, toilet rolls, etc.), and asking for clean towels and bedding that are left outside our door for us to remake our own bed. (Maybe if someone is staying for a month they could simply ask to move to a different room each week to avoid any housekeeping!)
In terms of lifestyle chores it's been home away from home, other than the very confined space which sees us and three dogs regularly tripping over each other. And the fact that we had no cleaning supplies to service a bathroom sink looking more dingy every day as we're also having to use it for washing tea and coffee cups with plain water….
Please don't think I'm whining – far from it. The hotel is running with a skeleton staff so I can't imagine how many people have been furloughed or laid off due to coronavirus. Speaking to one of the housekeeping staff, she told me the lower half of her face is suffering from a sweat-induced rash, constantly itching from wearing an essential mask for her eight-hour shift. How, therefore, can we complain about the need to wear masks when passing through the lobby or walking the corridor to and from our room, although it pains me to say that some people were openly flaunting the rule as there were so few staff around to remind them.)
At most we saw only seen 16 parked cars for a total of 108 rooms, so I imagine any profit margins are extremely thin, or non-existent.
Similarly, a walk to the Chinook Centre for some window shopping demonstrated the hygiene paranoia that's necessarily ruling our day-to-day lives. A one-way walking system around the mall to comply with social distancing regulations (although this only works in practice until you reach a cluster of insistent dawdlers clogging the 'traffic' lane that forces you to overtake and break compliance with the two-metre rule). Every store had a 'security' person logging the volume of entering shoppers to maintain appropriate in-store distancing, then you followed the size-10 footprints glued to the floor to ensure a one-way system. Line-ups outside the more popular stores – customers waiting six-feet apart, of course. Some stores (Apple) taking the temperatures of customers with mandatory appointments for their gauchely named 'genius bar'.
On a Saturday afternoon, the normally lively mall was devoid of its usual vibrancy and the joy typically associated with weekend and back-to-school family shopping expeditions. No visiblesmiling faces, other than kids under the age of two who are exempt from mask wearing. You have to wonder how the current predicament might impact these kids' lives down the road, as well as our own psychological equilibrium. Is the pandemic creating a new type of mania – live for today and suffer the consequences tomorrow? Are we going to see an end-of-the-world mentality with consumers maxing out credit cards, or are people being ultra-cautious with their spending – optimistic that better days are just around the corner and, therefore, saving is the key to a better future. Weren't we all thinking this nearly six months ago?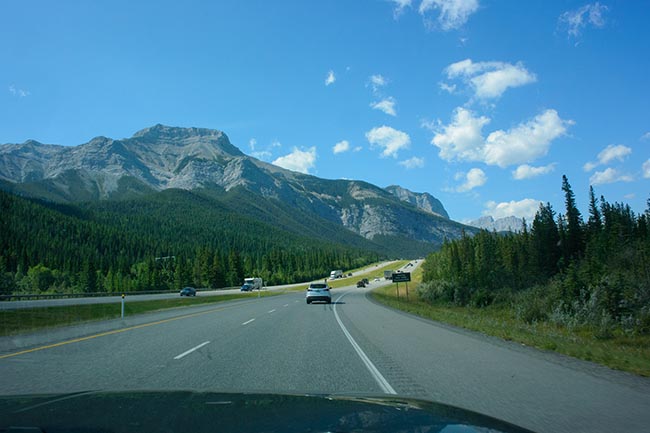 Sadly, coronavirus is also going to wreak a heavy environmental impact. Think beverage supplies for hotel rooms. Every day, we collected a supply of tea and coffee from the Holiday Inn's reception consisting of non-recyclable coffee pods, plasticized paper cups, and made-up packs sealed in plastic that included a folded paper napkin, plus double sachets of real sugar, artificial sweetner (neither of which we use), non-dairy 'whitener' (of origins unknown), and a plastic stirring stick. As we only ever used the whitener, wouldn't it have seemed sensible if all the remaining items could have been returned and recycled? We did ask but the answer was a definitive "no", because it's assumed that everything that's been touched by human hands is now irreparably contaminated! Que sera!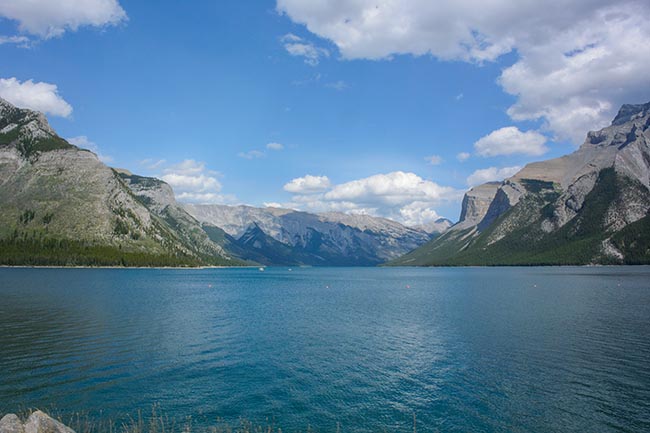 Change of scene
Two days ago, having successfully car shopped before we left Calgary (for pick up on August 21 – the same day we move into our new home), we enjoyed a much-anticipated change of scene when we moved to Banff – and what a spectacular move! Thanks to a good friend who works for Canadian Rocky Mountain Resorts, we're staying in a fabulous log-cabin at Buffalo Mountain Lodge, in an upgraded room at only a fraction of the regular price ($ instead of $$$+). Much more space, a back door straight out onto a shady alpine meadow for the dogs (on leash, of course, because of the local wildlife), and a 20-minute walk to downtown Banff to enjoy a vast array of eateries, although the mountain vistas are already providing food for the soul.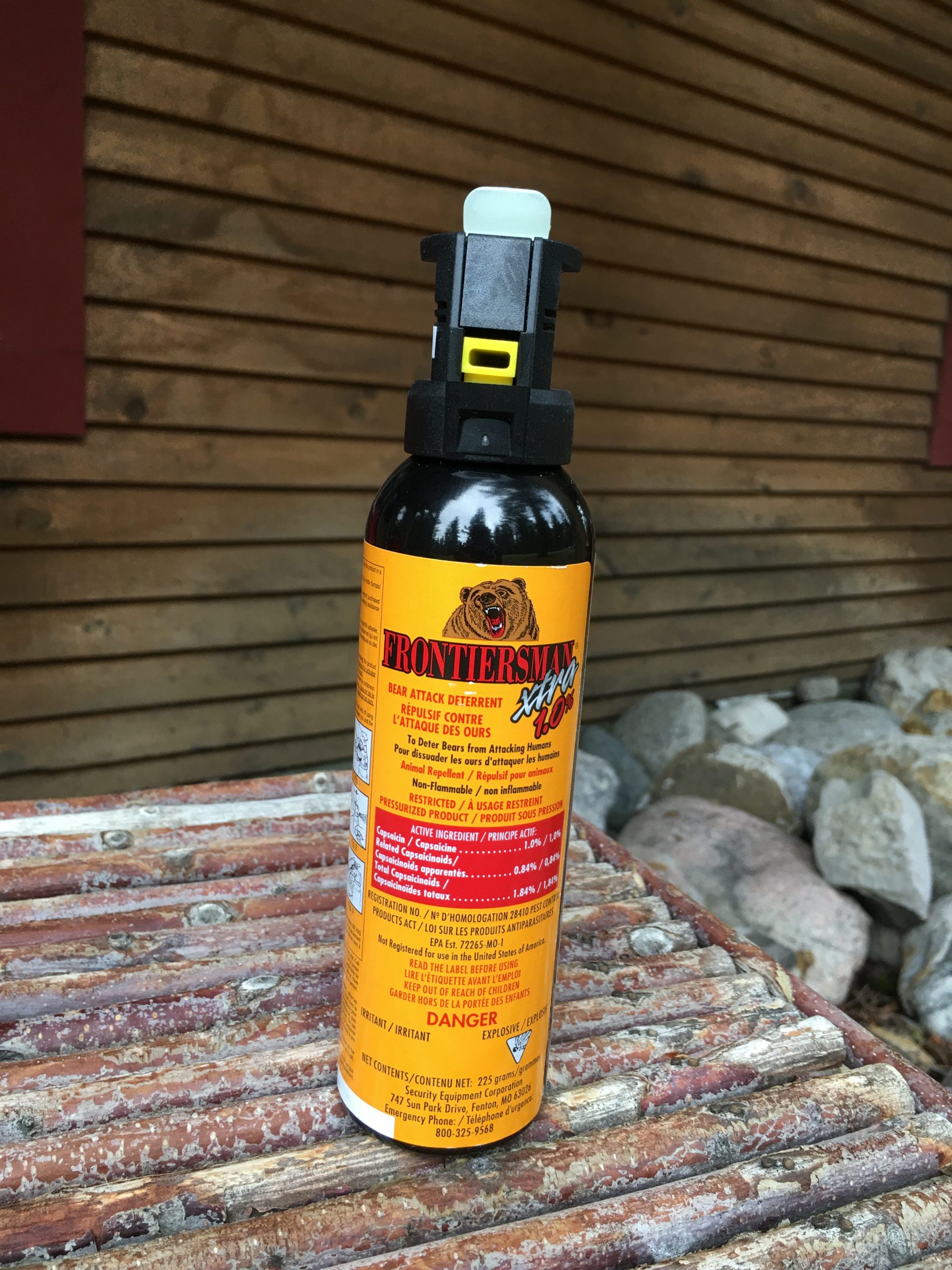 Yes, we did buy a couple of cans of bear spray before we arrived as berry season is now in full swing and it's time for Ursidae to pile on the pounds ahead of their winter hibernation. Yesterday evening, however, we walked along a trail singing 'One man went to mow' as we'd left the spray behind at the cabin. Of course, for the slightly dotty hikers, outdoor stores offer a multitude of ineffective bear deterrents, including small bells that can be velcroed to backpacks or worn as wristbands to ward off any curious beasts!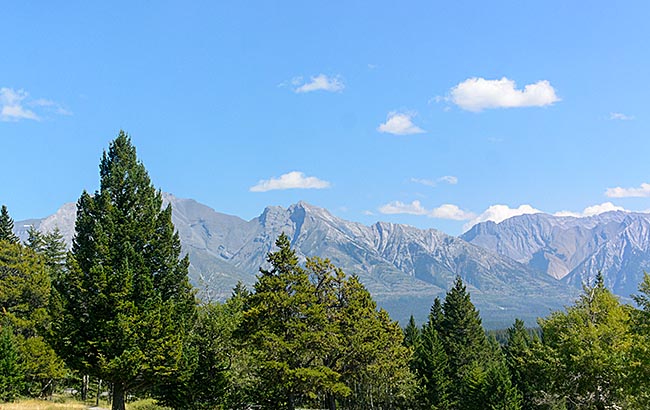 Laughingly, many years ago, a mountain man called Ben Gadd who wrote an iconic book about the Canadian Rockies, handed down the opinion that it would take the bell off the front of a locomotive to successfully scare away any nearby bears, and rattling stones in a tin can or singing at the top of your lungs would be just as effective. But, what the heck, fleece the naive tourists who believe a bear bell is going to save them, when all you need to do is hike in a group and know you can run faster than the slowest member.  LOL! Running away will only kick-start a bear's instincts to chase what it believes might be a tasty meal – and they can run faster than a galloping horse over short distances – hence the bear spray. Another alternative would be to climb a tree, but then you need to know whether you're being confronted by a black or a grizzly bear. If it's the former, it'll chase you up the tree, or the latter will simply tear the tree down to get to you!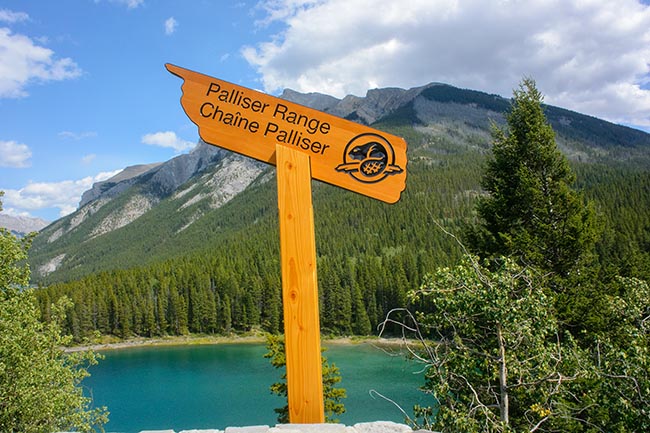 But, please don't take these tongue-in-cheek observances as daily rituals in bear country. We'd been coming to Banff National Park for years before we even saw our first bear as they're more likely to steer clear of strangers in their territory, and elk are far more dangerous, especially during rutting season, which is…. NOW!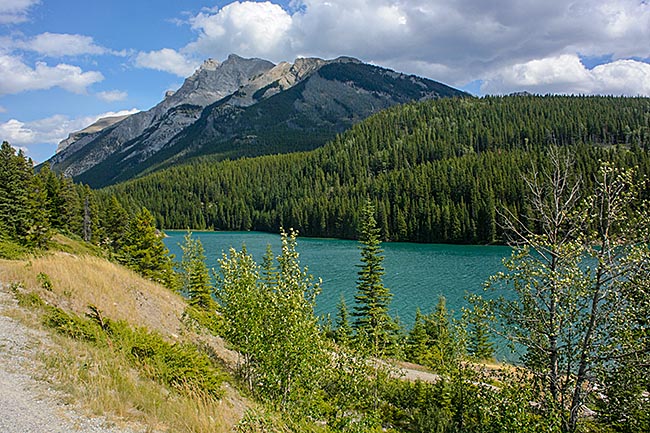 Of course, every year there are incidents caused by crazy tourists who are tempted to treat the inhabitants of Banff National Park as one would domestic pets, usually with dire consequences for either the tourist(s), the bear(s), or both. Feeding is one of the major issues, to the point where bears start to associate humans with food – hence all the bear-proof garbage bins around Banff townsite. Being omnivorous, even the most fastidious black bear is unlikely to turn down a Big Mac in lieu of a juicy bush of huckleberries (of which they can eat 30,000 in one day), or buffalo berries of which grizzlies may eat 200,000. It's why all the campsites cautiously string wires from tree to tree, so tent-dwellers' backpacks containing any food items can be raised high into the air to avoid bear familiarity.
So, here endeth today's lesson about bears (which we haven't yet seen, but have a photographer friend who usually knows where to find them).
You'll see from my various amateur point-and-shoot pics, that it doesn't matter where you point-and-shoot in the Rocky Mountains as every view is stunning.
Until next time – in a day or two…